Domesday Book
Entry for Stillington

'The Lands of the Archbishop of York...In Stillington there are ten carucates to the geld and there could be six ploughs. St Peter had and has it. There are six villans with two ploughs and a mill rendering 3 shillings. There are eight acres of meadow and woodland pasture one and a half leagues long and half a league broad. In the time of King Edward worth 40 shillings now 10.'
---
Entry for Marton

'In Marton Northmann had one manor of 6 carucates to the geld, and there could be 3 ploughs. Now Nigel Fossard holds it (of Robert, Count of Mortain). In the demesne there is half a plough and 20 villans with 6 ploughs. There is a church and eight acres of meadow and woodland pasture half a league long and a half broad. The whole manor is one league long and one broad. In the time of King Edward worth 20 shillings now 16 shillings.'
---
Entry for Moxby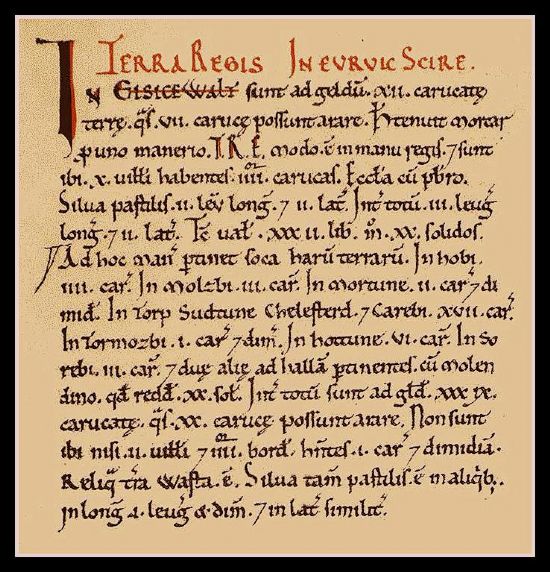 'The Lands of the King in Yorkshire...held by Morcar in the time of King Edward... was worth £32 now 20 shillings...To this Manor (Easingwold) belongs the soke of these lands ... in Molzbi (Moxby) there are three carucates... All together there are 39 carucates to the geld, which 20 ploughs could plough. There are only two villans and four bordars having one and a half ploughs. The remainder is waste. Yet there is woodland pasture in some places one and half leagues in length and the same breadth.'
Note: as Moxby is listed with ten other villages it is impossible to know whether it was populated or it was waste.
---
Terms
Bordar - a cottager, of lower status than a villain, usually having less land and more associated with larger villages or towns.
Carucate - a term used in the north for the notional area that could be ploughed by an eight ox team.
Demesne - land held in lordship whose produce was wholly owned by the lord.
Geld - English land tax.
League - One and a half Roman miles or 1500 paces. In Medieval England a league was 12 furlongs.
Manor - an estate. Had no defined size and could consist of one village or many.
Plough - the number of eight ox plough teams that could notionally work the land.
Soke - an old English term for the jurisdiction over certain lands held by a Lord.
Villain - a peasant of the highest economic status, though still unfree, owning or working more land than a bordar.
Waste - land which renders no dues - in the case of land in Yorkshire because it was physically devastated in 1068/69.